Lunch– $8
Hours: 11 – 2 pm
TWO- 2 JUMBO Fried Shell Tacos with chips and salsa. This is a shareable size portion; lunch for two. Dine in Only
Two fried to order shells stuffed with beef, lettuce, fresh diced roma tomato, cheddar cheese….  and served with fresh fried chips and salsa, sour cream and taco sauce….  jalapenos on request….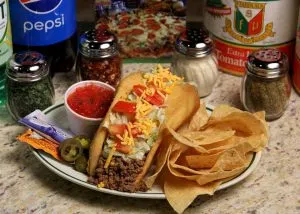 Dinner– $15
Hours: 4-8 pm
RonDavoo Stuffed Pizza. Your choice of toppings. Dine In / DriveThru/PickUp  (Can order online at www.rondavoopizza.net or over the phone at 319-752-5767.)
We start with our fresh made dough, pile on fresh shredded cheese (almost 2 inches deep, so you better love cheese!!), fresh hand cut veggies, only the best meats…. then topped with another layer of dough, Ron's special recipe sauce and finished with a shake of parmesan…. baked to perfection in our "WOW" ovens (this one takes close to 25 minutes, compared to most of our pizzas that are ready in just 5 to 7 minutes, so you gotta be patient)
Location: 605 S. 10th Street, Burlington
Online ordering available at www.rondavoopizza.net. You can specify a specific time in the future you want to pick up your order and it will be waiting for you at the convenient drive through pick up window.
FROM RON'S SPECIALTY PIZZAS, TO JUMBO WINGS, TO TACOS AND TACO SALADS AND FRESH FRIED CHICKEN THERE IS SOMETHING TO PLEASE EVERYONE IN THE FAMILY.
For pizzas, Rondavoo always starts with FRESH MADE DOUGH, SPECIAL RECIPE SAUCE…only the BEST TOPPINGS, 100% REAL WISCONSIN CHEESE that is shredded in store for freshness….  all BAKED TO PERFECTION in "WOW" ovens… COME TASTE THE RONDAVOO DIFFERENCE!