OUTPOST Restaurant Week
Join 101.7 the Bull LIVE from the Outpost on Wednesday, September 19th from 5 till 7.
Lunch Specials
$5 lunch special every day!
Homemade Cheeseburger: Fresh ground beef – Never frozen! Plus one side and a drink for $8
Homemade Pork Tenderloin: Plus one side and a drink for $8
Dinner Specials
Two for the price of One Dinner Special: Your choice of TWO homemade tenderloins –OR- TWO Philly Cheesesteaks plus TWO sides and TWO drinks for $15
STEAK SPECIAL: Ribeye with two sides and a drink for $15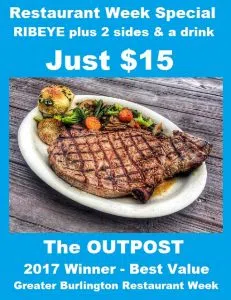 Calendar
TUESDAY:

$2 Tuesday! Beer, well liquor and Captain – just $2 a glass!
FREE pool and darts

WEDNESDAY

All the Chicken You Can Eat (plus 2 sides) = $7.95
$15 Bottomless cups – 8:30 to 12:30

FRIDAY & SATURDAY – Entertainment
SUNDAY:

Bloody Marys for $2
$2 Shot Specials – brands will vary.
Kids Menu!