When one of our marketing consultants, Pat Curtis, was on the phone with this Restaurant, I was jumping up and down silently screaming with joy! No kidding, you can ask her. I also BEGGED to go with her when she went to talk with the owners in person. Begged… I am not ashamed. The food was that good!!!
If you haven't had Fat Jimmy's Smokehouse yet, you are missing out. The smell, the taste, the variety… everything about it is perfect.
Why I was jumping for joy:
A couple of months ago, a friend casually mentioned trying Fat Jimmy's… I had never heard of the smokehouse in Montrose, but it's me, I'm down for anything food. So we loaded the car, made the quick drive, and I knew immediately after pulling up that this place was for me.
You open your car door and the smell hits you. The best smell ever… the smokehouse that is right there! Then you walk in, and the smell gets even better. After reading through the menu options of meats and hot and cold sides, you HAVE to make a decision. (OR you can do what my friend Jose did and get the 3 meat platter if you are still indecisive.)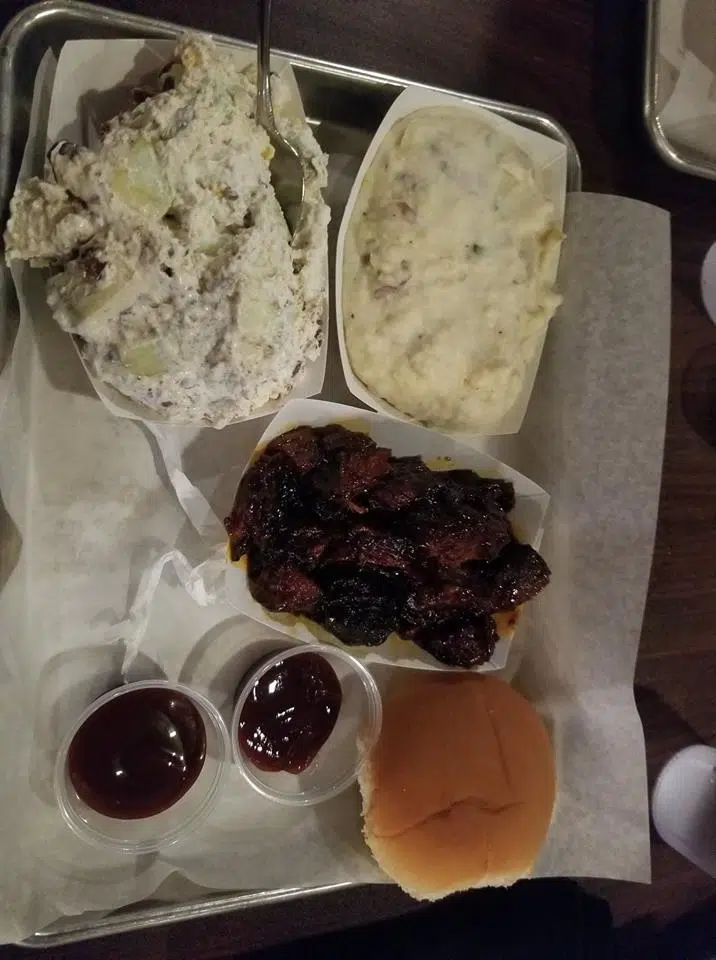 The meat is ammmmmaaaaaazzzzzzing. I did try my friend's food, because they are nice and shared; there is not a bad thing on Fat Jimmy's Menu. Seriously. I will say the garlic mashed potatoes and the snickers salad are the sides you HAVE TO try. (Especially if you dipped your pulled pork/brisket in the mashed potatoes… yum!)
Since that trip, I have vocally recommended Fat Jimmy's to nearly everyone… no exaggeration… again, ask Pat. Grab some friends, load up the car, and make the trip to Montrose, you won't regret it
Check them out during Greater Burlington Restaurant Week now through the 23rd!
I'll be eating all over the Greater Burlington Area this week, make sure you post to our Facebook with #GBRW for your chance at prizes!