PHOTO: The Drake on the Riverfront
I have been living on my own for over a year. It's my first time doing so and a not so good attempt at being an adult.
The words "healthy" and "well-balanced" are total antonyms when it comes to my diet. But, every now and then I feel so depleted of essential nutrients that I enjoy a nice meal consisting of both protein and vegetables.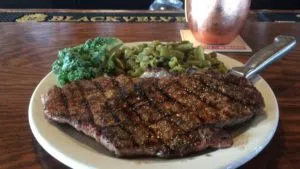 The first place I think of when I need a good steak is obviously The Drake on the Riverfront in Burlington. I typically go with the delectable ribeye. Throw some perfectly made green beans next to it and my mother would be proud of me.
You can never go wrong with a properly proportioned house salad. The croutons at The Drake are out of this world and they take their salads to a whole new level.
Of course, I have to wash all of this down with a mango Moscow Mule. It's impossible for me to go to The Drake without ordering one… or three.
Greater Burlington Restaurant Week is from September 18-24th! Make sure to see Sam, Jimbo and everyone else at The Drake!